6/30/99 Ben will co-star in "The Third Wheel". Read Mr. Showbiz's story here
On July 4th on ABC at 10:00 they will show Casey's movie "Race the Sun".
ETOnline has a new interview w/ Ben here
6/22/99 Simon & Schuster's novel, "Medal of Honor," is being developed as a movie for Ben Affleck and Billy Bob Thornton. It is the story of a World War II marine who returns from combat and is recruited as a crimebuster in Arkansas.
6/21/99 Did you see Ben at the mtv movie awards? If you missed it, he was hilarous as usual and kissed Mr. Kevin Smith. NSync also did a paradoy of Armageddon which was hilarous and Ben seemed amused.
Everyone has been emailing me with an address of Derek (?) from affleck.com father's website that has pictures of Ben and Casey. You can check them out there at his website.
Entertainment Weekly did a bit called FOB's for Friend of Ben's. It mentions three guys that are working with Ben. Anyways, here is the good stuff: The Third Wheel should be shooting beginning July 13 (Matt and Ben's movie to produce); Boiler Room is due out January 28!; and Reindeer Games is due out this coming December (so is Dogma!). Cool.
And last but NOT least Casey was reported in People Magazine this week: "Casey Affleck lost $4,000 gambling during the shooting of the romantic drama Desert Blue near Tonopah, Nevada, a small one-casino town 'in the middle of nowhere' according to co star Christina Ricci. 'He'd got to the cash machine, get out more, and he lost a load of money.'"
5/21/99 Ben made an appearance at the Cannes Film Festival. Newsaskew scooped the pix below. (note, pictures reprinted w/o permission for fan appreciation only).
There is also an article to read here



5/18/99 Ben may appear in "Storm" with (sigh) George Clooney. Here's the story.
5/14/99 Click on images below to see People and Teen Peoples newest pix of the guys!
5/8/99 Newsaskew scooped this great page about Dogma and it has a new Dogma picture of Ben and Matt!
4/30/99 Ben was voted on of People Magazine's Most Beautiful People
Click cover to see picture and read the article!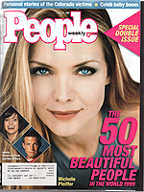 .
4/26 Casey's New Movie Desert Blue's Official Site is up!
4/20/99 Ben posted at the affleck.com boards again! Read the posts herewww.boards 14 and 15 and here's his update post (reprinted w/o permission)
Hello, folks- Sorry to have been gone for so long. It was a busy, busy week and Derek took up all my free time on the internet trying to finesse the finer points of inter-planetary combat (long story, no further elaboration-way too nerdy...) Evidently I won't be starting at quarterback for any NFL team any time soon. One hit from NFL start Dana Stubblefield (Washington Redskins) during a prison riot sequence we were filming, and my head whacked against the concrete so hard I barely remember eating lunch that day. I have a whole new sympathy for Troy Aikman. The short of it is, I'm fine. It was a freak accident, no one was 'at fault' (well, I don't actually remember what happened, but that's what I'm told...) and I'm back at work this rainy monday morning as if nothing happened. What did happen was (evidently) I cracked my noggin on the floor, was out cold and was taken by ambulance to Vancouver General Hospital where the fine doctors and nurses took very good care of me. They did all manner of x-rays and cat-scans to make sure I hadn't damaged myself (I assured them that that was my normal personality) and after some pleasant pain relievers (and a current, steady diet of Tylenol-3) I was released. I was told I suffered a 'level-3' concussion (I'm not sure what that means, except that it's short of a 'contusion') and would be a little tired, suffer lingering hangover-like headache symptoms and otherwise be fine. Some weisenheimer asked me if the head injury was before or after I decided to do 'Armageddon'-- my only reply is: obviously before, it was right before I signed up for 'Phantoms.' Perhaps you saw that little sewer-monster opus? Anyway, I'm a little worse for the wear but back on the saddle this monday (though I think from now on, I'll leave the stunts to the professionals...) Thanks for the sympathy and interest and you can all go back to having cyber-sex with each other or arguing over which was the best Kubrick movie or whatever else there is to do on the net on a cold, grey monday.
Ben
Let the voting begin for mtv's movie awards!


BEST MALE PERFORMANCE


BEST ONSCREEN DUO


BEST MOVIE
goto MTV.COM and cast your votes! The show will air June 10th.
4/19/99 Ben was injured Friday night up in Canada while shooting Reindeer Games. He is fine and doctors kept him one night just in case. But no worries the man is up and doing fine. I'm sure he'll let everyone know at affleck.com when he gets the chance. Pick up a copy of the latest Elle magazine, there is a short article and picture of Casey (I'll have it up here soon)
4/9/99 alot of news today folks....Gwyneth Paltrow and Ben Affleck are reuniting -- for a movie. The former lovers, who also starred in "Shakespeare in Love," are planning to work together again in "Bounce," which Variety calls a drama with romantic overtones. It is scheduled to shoot this fall. Miramax will produce, and Don Roos ("The Opposite of Sex") will write and direct. Affleck will play a womanizer who gives up his seat on an airplane to a guy who desperately wants to get home to his wife. After the plane crashes, Affleck's character develops guilt feelings over the other man's death and becomes an alcoholic. One year later, he resolves to check up on the dead man's widow (Paltrow). She is unaware of the role he played in her husband's death, and slowly they fall in love with each other.
Mr. Showbiz has more info
This post is reprinted without permission from affleck.com. Ben posted it last night about his current plans and where abouts. (Heh, I'm in L.A. maybe I'll run into the boys?)
"Boy, you miss a couple of days and the whole place goes hog wild. It might be physically impossible to answer every question since the last time I've been here, so let me give you an update. Yes, Dogma (in a pre-emptive and, I think wise, move by the Brothers W.) has been bought back from Disney by it's producers. It has screened for Cannes and we'll know if it got in by April 22. The US distribution will probably come out of Cannes, although there are only a few distribution networks here and they're all aware of the movie (though none have seen it.) I think it'll be completed (mixed, final fx etc.) and then screened and released through one of several possible distributors--and, I suspect, released next fall as planned.I have finished shooting in Prince George and now find myself in the (comperably) enormous metropolitan area that the locals call The Couv. Vancouver is nice, warmer and we're on a soundstage (the same one that the X-Files TV show was shot on for five years, coincidentaly-- so I guess the truth is around here somewhere...) I'll be heading back to LA this weekend to do some voice over for 'Joseph' (The SKG animated follow-up to Prince of Egypt.) I've heard a rumor that my brother is in LA-- so perhaps, if the fates smile on me-- I'll catch up with him too. I saw Matrix last night and thought it was incredible. Visually astonishing and a smart, interesting story to boot. Also, the folks at the famous players theatre in PG were kind enough to run the Phantom Menace trailer for me (three times) which I thought was AMAZING (I know I'm behind the times with these, but still.) I, along with everybody else, will be waiting in line to see it as soon as it comes out. If you're wondering about how I got them to run the trailer, they had asked me to sign a bunch of posters and in exchange they said they'd run the trailer when I had a chance to see it (as I was working when it was screening) it also saved me the misfortune of having to sit through the shite movie it was playing in front of. I see many questions below, ranging from my opinions on Noriega, Castro and JFK to what my favorite color blouse is (thanks for the movie idea, Brian, I'll keep it in mind.) I'll get to some this weekend when I have a minute or two. That's about all in terms of update stuff, the movie is coming along really well and I'm pretty excited. Were already a third of the way through shooting and the most grueling part is behind us. Frankenheimer is brilliant and it's been both a joy and an education working with him. He's doing an amazing job. Oh, and the paternity tests finally came back and I'm proud to say I am, in fact, Kevin Smith's biological father. He's an errant lad but good at heart and his mother and I are somewhat proud of him. "
4/8/99 Get your unofficial ben and casey site wallpaper for your computer's desktop here
4/6/99 Ben and Sandra Bullock?
4/5/99

Ben in this this weeks EW mag.
4/1/99 affleck.com has Ben and Sandra's interview from Harper's Bazaar
Thanks to Sara, who found an article on girlsonfilm.com. Read the article here
So, yah, I got around to putting all the Oscar 99 photos up together
3/29/99 Truth: Forces was #1 again this weekend at the box office!
False: Ben and Gwyn secret wedding next month. (read affleck.com's clear up Ben posted at the affleck.com boards again.
3/24/99
David Strickland, Ben's co-star in Forces of Nature, and friend, committed suicide Monday. Strickland was also a regular on Suddenly Susan. Ben told e!,
"I am shocked and stunned and I will miss him a lot."
Newsaskew posted a picture of Ben and Matt Damon from Dogma. Check out affleck.com", up recently is Ben on Leno, Ben's lost Burger King Commercial, 24 images taken by Ben himself, Ben on Dennis Miller Live, Ben's interview on CBS this morning and Ben and Matt presenting an Oscar.

3/22/99



Click on last image to go to Ben's interview on Dennis Miller Live.
Forces of Nature #1 movie in America last weekend!
3/19 FON is out today! Cosmo mag has a new article and pix of Ben. Read the article here! New pix from the FON premiere also (please ask before taking if you have a website!)Ben and friend, Ben and Sandra,and Sandra grabbing Ben's butt. There are some other new pix up in the Forces Photo Gallery. And Cosmo also had a little tidbit on Casey
. So... is Ben with Calista or not? read the scoop at e!
3/14/99

Seventeen Mag's article and picture of Ben.News on Desert Blue Casey's new film, due out in June.
3/13/99 Ben will be on Good Morning America the 19th. E! will premiere their Forces of Nature Behind the Scenes on the 20th. E! this weekend shows Casey (briefy ):) and Joaquin Phoenix at a Fashion Show.
3/11/99 Watch a very funny interview of Ben here at the Official Forces of Nature site.
3/9/99 Read Casey's chat w/ yahoo. Thanks Sara! Ben will be on the Tonight Show Friday night! So we have all heard that Casey is taken. I wonder if this is picture of her?. The LA Times had a wonderful article about Ben read it here at Affleck.com. I put up a new page filled with Morgan's quotes... all those classic Good Will Hunting moments.
3/6/99 Ben was great on Dennis Miller. Him and Dennis had a great chemistry and Kevin Smith called in!!!
HBO Monday night at 9:45 will premiere "First Look" for Forces of Nature.
3/5/99 EW mag reported that Casey's movie "Desert Blue" will be out this summer (June-August); EW also named Casey in there feature "Who's Who in Hollywood High" as the "Achingly Sincere Doormats", if you have seen 200 Cigs you'll understand what EW means. Ben writes an article for Flaunt Magazine. Read it HERE. Note: scoop taken w/o permiss from Newsaskew.
3/4/99 Ben and Calista Flockhart????? I don't know. Ask E online.
2/28/99

Read two articles on Ben from White's Guide to the Movies and Movieline Magazine.February 1999 News

2/27/99 Ben will be a presenter at the Oscars. Thank you to Newsaskew for the mention of this site! They also mentioned today that Ben might have a way for posters on the Affleck Boards to sign up to be an extra on his movies.
| | |
| --- | --- |
| | 2/26/99 In an interview tonight on E! Christina Ricci talked about what it was like to kiss Casey. He said that he heard he was a good kiser. Ricci said that he smells like vegetables. HHMMMM. Veggies? Then Gabby Hoffman joked about how she wanted to change the script so she could kiss Casey. E!ONLINE has a great article on Casey here! The article even states that Casey is cuter than Ben. Check it out, it's great! Also download or watch on Realplayer a scene from the movie with Casey! to the site Casey's words of wisdom . A bunch of quotes and stuff by Case. Ben posted on the Affleck Boards last night. He answered A LOT of questions. Go check it out! (He even answered the questions who his best man in a wedding would be... CASEY!) Here's his last post from the board which answers a bunch of questions for us "Sorry, that's all I got in me tonight. I know I didn't quite get to everybody, but I'll try in the future to get back. Repost if i didn't answer you. I'll get around to it. Once I'm up in Canada I'm told I won't have much to do but fool around on the net- so I should be pretty accessable. Anyway- look for the pictures in the coming week or two- along with an online version of the super-8 movie I shot while making GWH. Signed stuff and all that will come together as soon as I can find a good charitable cause and get the whole apparatus moving. Thanks for your interest. Take care... Ben" I won my first award from Starpages.net, thank you to everyone who voted for me! |
2/25/99 The last poll's results... Q: In my opinion Casey Affleck is.... "really cute" was the #1 choice with "a talented actor" coming in with a close second.
2/23/99 And some wonder why Ben does not like to talk about his personal relationships... People reported wrong yesterday (their source was the Post) that Ben and Gwyn would attend the Oscars together. SIKE! Gywn's father will be her date! here's the clearup.
2/22/99 Hmmmm... Gwyneth will be on the arm of Ben Affleck at the March 21 Oscarcast, says the New York Post. Her "roving eye" and his "party-hearty antics" were the causes, says the Post. Also according to the Post, "On Valentine's Day, they sent each other flowers and ... jewelry, and there have been reports of them hanging out together in New York, London and L.A.". (scoop from People online email) Check out Cosmo Magazine's kiss of the month.
2/21/99 Ben has been answering a lot of questions and has been been posting this weekend at affleck.com. What a guy! Bummer news ladies but it seems that Casey is taken and last week mentioned on a news station interview in Philly that more girls approached him BEFORE he was famous! People Mag printed a great picture of Ben this week late a looksy right here. Affleck.com has Ben's presentation up of Mark McGuire's Espy award. Here's the link.
2/19/99 Ben and Matt Damon will take supporting roles in ''The Third Wheel,'' the first project to come out of their Miramax-based production company. They are executive producing this romantic comedy about a man whose dream date goes awry when he and the woman get mixed up with a con man. Here's the scoop!
2/18/99 AFFLECK.COM Ben's OFFICIAL site has opened today! I am so excited to see that they included a link to my site under their links! It is extremely flattering to know that the official site had such kind words to say about this site and have recognized it.
2/16/99 last night at the Espy Awards Ben presented "Baseball Player of the Year" to Mark McGuire. In giving a recap of the baseball year, he started with the Yankees and said as a native Boston resident it was misery watching their hated rivals do as well as they did. After giving the award , McGuire joked "this must feel like winning the Oscar last year".
2/14/99 Ben posted on the askew boards again. Read what he had to say.

2/11/99 200 Cigarettes Official Site has been updated! See Ben and Casey at 2nd Ave bar and Monica's apt.
Affleck.com Ben's OFFICIAL site will be up between Feb. 15 and 22. What's this all about? Click HERE to find out. NOTE: this is from affleck.com
Ben's Fanatic appearance will be on MTV March 17! (that lucky girl!)
Ben posted on the boards again! Read here
My 200 Cigs page has been updated.

2/9/99 Ben's cameo on SNL can be viewed online at AFFLECK.COM!
Ben Affleck is scheduled to be at this year's ESPN "Espy" Awards Show, as a presenter. It's an awards show for the best teams and plays of the year. Samuel L. Jackson hosts and it airs February 15th at 7:30 ET.

2/6/99 Ben made a surprise cameo on "Saturday Night Live". Read an article about his appearance HERE ... "We dated. Broke up about a month ago -- didn't you read about it in the papers?" -- audience member BEN AFFLECK, introducing himself to "Saturday Night Live" hostess Gwyneth Paltrow during last weekend's show.

2/5/99 Casey featured on the new LAUNCH cd-rom. The cd includes a great interview and the trailor of 200 Cigarettes.

Now up the TRANSCRIPT of his interview.

2/4/99 Pam Anderson on Howard Stern this a.m. confirmed that the rumors of her and Ben at the Tyson fight are FALSE!

1/31/99 Casey News! The film "Desert Blue" starring Kate Hudson, Brendan Sexton, Christina Ricci, CASEY AFFLECK and Ethan Suplee is having it's US premiere at the South by Southwest Film Festival on opening night -March 12. The film is directed by Morgan J. Freeman.
1/29/99 Ben will appear on ABC's Politically Incorrect Tonight!
Armagedon #1 grossing movie of 1998! $624.3 million


Ben and Pam Anderson???


Ben appeared on the View Askew board the other night to respond to the rumor.


"The best thing about the net is one's ability to respond to this kind of scurrilous rumor-mongering. I met Pamela A at the tyson fight, said hello and that was that. Unless a polite, how-are-ya hollywood peck on the cheek counts, there was no public display of affection-- and (sorry to dissapoint) no private affection either.
Thanks for giving a shit (I guess.) Yours in new-found celibacy-"
Ben


1/25/99 Ben signed on to do Mirmax's "Reindeer Games". He will play an ex-con who is set up by a former cellmate in a holiday-targeted casino robbery. Mirmax's co-head Bob Weinstein said it best when he said, "He is a tremedous actor and we're looking forward to building a top-notch cast around him."
1/24/99NEW info on the Ben and Gwyn's breakup!
1/22/99 NEW Article about Ben and Matt Damon
MTV is looking for Ben's #1 fan for the new season of Fanatic!