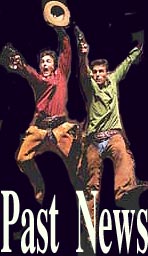 12/28/99
Ben found himself in court last week. here's the scoop
At Dark Horizons they reported an 'amusing' story about Ben doing Batman... "Batman 5: Ben Affleck is apparently close to signing onboard the fifth Batman project for an estimated $15 million, though he has set a rather strange condition. A WB source revealed to the The Sunday Mirror that "Ben has told studio executives he'd love to be the fourth Batman, but he really wants Gwyneth to play Catwoman alongside him...Ben thinks they would have brilliant on-screen chemistry together, and has promised he will work on her to get her on board". Paltrow is apparently a huge fan of Michelle Pfieffer's version of the role in 1992's "Batman Returns" (who isn't), and helping to cement the possibility is that she and Affleck, whose highly reported relationship ended around a year ago, appear to be becoming a hot item again. Can it be pulled off? Unsure. Personally I can see Affleck as the Bat, but Paltrow as Catwoman just doesn't click - she just doesn't convey that "unsure if she is good or bad" sense the character needs and which Michelle did so well. Thanks to 'Sonic'."
12/22/99
Well the internet was a buzzing today with news about Ben doing Batman. A few days ago Ben posted on his official board "There is also no truth (that I know of) to any Batman/Spiderman/Superman rumors. They may have thrown my name around (as happens a lot and means very little) as "someone who MIGHT be interesting" but none of those projects are even close to getting into production (again, as far as I know.) " So I wouldn't believe the hype. But if you are still interested in some of the stories I found here they are Article #1 and Article #2
Also Laura's (who donated a bunch of pix to the site) site url has switched to www.zyworld.com/laurabyrne/home.htm
If I don't post again until Saturday. Have a very happy holiday!
12/15/99
Ben has decided to not do the movie, "The Score". Read it here.
12/12/99
Affleck.com has scenes from The Boiler Room up! Watch it here.
The Boiler Room's official site is open.
I also wanted to thank Laura for the new pictures in our album. Check out her Ben Affleck Site!
12/11/99
Well after all the name mess. Reindeer Games it is! Ben showed up on his board and explained the name and his Boiler Room cameo right here
He also did some other explaining regarding the few movies he is supposed to be doing. Here it from Ben himself.
He will be on Saturday Night Live February 19!!! Go vote for Ben as greatest actor of the millenium here. Thanks Shauna!
12/8/99
SURPRISE! Ben presented artist of the century on the Billboard Music Awards tonight to Aerosmith. The audience went nuts, the cameras didn't stop flickering, and Ben was awesome!
Check out my Ben gallery I cleaned it up and added some great new pix! (please tell me if you want to use them on your site!
I have added a new section to this site. I really would appreciate some feedback. Please fill out the quick form/survey about this site so that I can improve it and give you what you want. Here it is . Thanks!
Ben signed on to star in the movie "The Score" with Robert DeNiro. Read it here.
12/6/99
Ben went by his official board and posted about the new name of his movie. It was formally Reindeer Games.
Dark Horizons reported, " Ben Affleck Untitled Project (aka. Reindeer Games): The lead choice for a new title has been discovered by a DH scooper. A marketing study was conducted for the film's trailer at Tower Records recently, with the title "The Inside Man" in use. People in attendance were asked what they thought of the name and whether it fit the film (reaction seemed positive). Thanks to 'Wes'. "
Dark Horizonsalso reported about The Cinderella Man, "Affleck is in the news again today. The BBC reports the Oscar winning actor is now in the process of getting in shape to star as a boxer in the film "Cinderella Man". Based on a true story and set around the time of the Great Depression, the film follows a young man who "enters the ring out of desperation to feed his family" and becomes a hero along the way. Miramax want Billy Bob Thornton to direct and possibly co-star in it, marking the second time the pair would've worked together (Affleck had a cameo role in Thronton's family drama "Daddy and Them" due out in Christmas). Thornton is currently wrapping up filming on the Matt Damon drama "All the Pretty Horses".
Ben is being considered for another movie based on the book,"The Dreyfus Affair." Read that story here.
I found some imdb stuff on two movies of Casey! Blue Light Special and Floating
12/2/99
EW.COM reported today "CASTING... Miramax's ''Cinderella Man,'' the story of a Depression-era fella who becomes a boxer to feed his family, has attracted Billy Bob Thornton (as director) and Ben Affleck (as star)" Thanks LuVS812!
People online reported that New York Daily News caught Ben and Gwyn kissing before her yoga class in New York... yawn. I am getting sick and tired of these reports.
11/30/99
So I am four days late but Ben posted again at the affleck.com boards. He did explain where he has been and what he has been up to lately. This is the direct link to that message.
11/29/99
Exciting news! Now this site sells all the Ben Posters and Ben and Casey movies and books! Please check them out, it helps support the site. Here are the POSTERS and here are the Books and Movies. Thank you!
11/23/99
Release dates have been changed! Bounce will come out on July 28, 2000 and The Boiler Room will be out February 18, 2000!
11/15/99
So Dogma has been out three days and was #3 at the theatres this week... did you see it?
Heh... great news.. CASEY stuff! Sundancechannel.com the online home of Sundance Channel, today announced the first on-line access to the diary of aspiring filmmaker, Jay Lacopo. "The Untitled Jay Lacopo Film Project" is a 13-segment series of fictional shorts produced exclusively for Sundance Channel. The shorts, currently airing on Sundance Channel, were written by Casey Affleck and Jay Lacopo, directed by Affleck, produced by Chris Moore (Good Will Hunting) and feature cameo performances by Don Cheadle, Matt Damon, Edward Furlong, Christina Ricci, filmmaker Gus Van Sant, Vince Vaughn, Ryan Phillippe and Reese Witherspoon.
And can I plead... well beg...with you to support my sponser AllAdvantage.com This site is a bunch of work and it would help me a lot! And besides YOU getting paid for being online so do I! It's not a hoach, it's for real and free. Please! Just go to alladvantage.com and sign up! Thanks in advance.
11/8/99
There will be lots of Ben promotion appearances this week (5 days till Dogma) Ben will be on TRL this week, Craig Kilborn, and "One on One" on the STARZ cable channel. Please check all of your own local listings for times and dates.
Casey news! (Thanks Kristen)Casey was filming at Northwestern University in Chicago last week. He is making the movie Soul Survivor. Here's an article about the day
11/6/99
Ben and Matt Damon will duke it out November 11th on MTV's Celebrity Death Match.
People magazine has a picture of Gwyn and Ben on the set of their movie Bounce!
11/7/99
If you can't or don't wanna pick up the new issue of Playboy magazine with the Ben Affleck interview you can read excerpts from it online HERE
11/2/99
Some bad news about the next Ben and Matt movie, "The Third Wheel". Apparently the film isn't looking too hot and needs a re-edit because it isn't working, and everybody seems to know it. It is a low-buget film shot in 28 days and maybe they need to do some reshoots.
11/1/99
Ben will be on the Conan O'Brien Show November 9!
I now have icq. My # is 53870431 and my nick name is ubacs. Please add me to your contact list and message me if you see me online!
10/25/99
Reindeer Games title has been switched to Deceptions.
10/22/99
EW voted Ben and Matt as the 87th most powerful men in hollywood.

10/20/99
Ben Affleck, is the movie star women most want to undress, according to a poll conducted by Cosmopolitan magazine and Women.com.
10/12/99
Check the movie place's Interview with Ben about Dogma
10/3/99
Ben and Gwnyth are back together again. NO! But still read about it here
And to clear up the rumors Ben and Britney Spears are NOT an item.
8/30/99
"Even Ben seemed to want a piece of the Pie. The actor showed up to support little brother Casey, who had a cameo in the movie as a college going G spot expert, and got happy and touchy feely with DreamWorks partner Jeffrey Katzenberg.
Join the Affleck Brothers Club to recieve emails, read updates, view new pix and more... HERE
Heard any news or have any suggestions?